Lack of respect and discipline for time is our problem in Ghana – Uncle Ebo Whyte
Entertainment of Wednesday, 8 September 2021
Source: sammykaymedia.com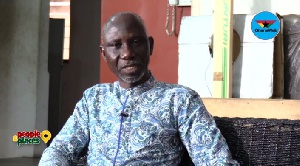 play videoUncle Ebo Whyte
As rightly quoted by William Penn, "Time is what we want most, but what we use worst."
Ghanaian playwright, author and motivational speaker, Uncle Ebo Whyte has also made his own observation and reservation about Ghanaians indiscipline and respect for time.
Speaking in an interview with Sammy Kay on the Go online show, Uncle Ebo Whyte asserted that he did not understand why in a country like ours, people will fix their own time for an event, yet will be disrespectful to those attending the event for not starting the event on time by honouring their part of the deal with time management.
Uncle Ebo said, if there is something he would want to change in Ghana, it is the Ghanaian attitude and respect for time, hence his decision to respect time in all his events and plays he organises.
The artistic director and lead writer at Roverman Productions, also stated that the difference between the first world countries and third world countries like Ghana which has created vast developmental gaps for us, is their respect for time, attitude and discipline.
Watch the video below:
[embedded content]