I have 7 houses – Shatta Wale brags in his response to Nicol-Sey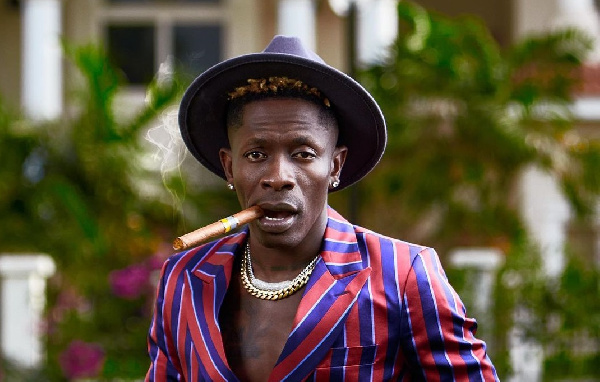 • Shatta Wale is furious over comments passed by Nicol-Sey
• The musician has been described as "one empty barrel" for criticising flamboyant videos
• He insists he spewed nuggets of wisdom in his critique
Shatta Wale has reacted to David Nicol-Sey's assessment of him; but typical of his character, the response was not served without the dancehall musician trumpeting material things he claims to have achieved.
"David Nicol-Sey, I have seven houses, I have a bank account", Shatta Wale said in an interview on Hitz FM, Tuesday.
Nicol-Sey, a music video director, had in a tweet described Shatta Wale as "one empty barrel", stressing that the musician is "the main reason the Ghanaian music industry is falling".
His comment was a reaction to a post by Shatta Wale which pooh-poohed colleague local acts attempt and resolve to shoot flashy music videos.
"Keep shooting videos like you want to battle Jay Z, you will wake up one day and ask me how I made all this money… and I will tell you this…" Shatta Wale's post accompanied with some press play button images read.
Nicol-Sey, credited for directing and shooting Sarkodie's 'Overdose' and Papy Kojo's 'Makoma' music videos, could not fathom why Shatta Wale would make such a post. Indicating that he was bewildered by Shatta Wale's actions, the film director said: "Same artist has been online promoting Beyonce's Already music video at this year's VMA for best art direction video nomination. It's so confusing."
He further scolded Shatta Wale for consistently hurling insults at colleagues. According to Nicol-Sey, Shatta Wale's unmeasured remarks and attitude towards stakeholders, impact the industry negatively.
"Same artist will rant about how the industry is struggling but yet tarnish and insult everyone. This behaviour of his greatly discourages investor confidence and cripples the entire Ghana music industry", the film director posited.
Reacting to the description, Shatta Wale noted that he knows what he is about. His success, he noted, has been as a result of the execution of a well-thought-through strategy that many musicians lack.
He took a dig at Nicol-Sey while stressing that he [Shatta Wale] is wealthy because he means business.
"He probably was in JHS when I started music. People like this, ask them; have they been on the battlefield before? They've not been on the battlefield. Because of Twitter, people like these can just write something like this. How can you write something like this?" an irritated Shatta Wale retorted.
He continued: "Some of us don't even know why they're doing music. I know why I'm doing music. I planned this thing from a certain age to a practical point in my life and I feel so proud of it. If I'm talking about we trying to shoot videos like Jay Z, you want to shoot a video like Jay Z? I cannot compete with Jay Z."