70% of cross-border trade in West Africa is women driven – ECOWAS
Business News of Tuesday, 14 September 2021
Source: gbcghanaonline.com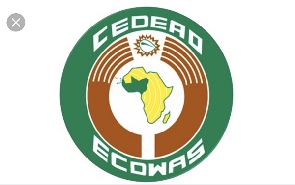 Logo of the sub regional bloc, ECOWAS
Director in charge of the ECOWAS Gender Development Centre, Bolanle Adetoun, has asserted that about 70% of the cross-border trade in the sub region is done by women, making them a critical factor in development discourse and action. She observed that cross-border trading by women provides livelihood for a lot of families in border communities.
As such, strong efforts should be made to support such cross-border cooperation development initiatives to promote regional integration especially through the African Continental Free Trade Area (AfCFTA) Initiative.
Madam Adetoun was addressing participants of a virtual Needs Assessment meeting for Women in Development. The meeting under the auspices of ECOWAS Commission through the Directorate of Free Movement of the Department of Trade, Customs and Free Movement was convened to identify areas of intervention, gaps, challenges and needs of women in development networks for regional support.
More than 73 participants drawn from across the ECOWAS Member States and representatives of the ECOWAS Commission attended the meeting. It was inspired by the Framework of the ECOWAS Regional Cross Border Cooperation Support Programme 2021 to 2025.
The session was made possible through the ECOWAS Cross-Border Cooperation and Free Movement and Migration Fund recently adopted by the sub-regional bloc Ministers in Charge of Cross-Border Cooperation.
Madam Bolanle Adetoun emphasised that support is needed for women in development actions especially in the area of Trade and Free Movement for sustainable development. She noted that addressing challenges and constraints faced by women traders in border communities will also go a long way in promoting economic stability and development in ECOWAS.
Commissioner for Trade, Customs and Free Movement, Tei Konzi, reminded participants that the objectives of the Cross Border Cooperation Support Programme included strengthening cross-border cooperation and consolidation of peace, stability and development as well as supporting implementation of economic-driven local community projects.