Akonnor had no independence – Gargo Mohammed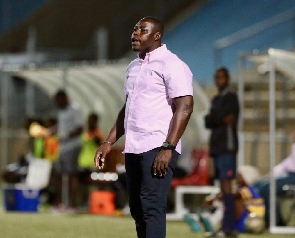 Gargo Mohammed, a former Black Stars coach
A former Black Stars player Gargo Mohammed has expressed disappointment in the sacking of the head coach of the senior national team, Charles Akonnor.
Speaking exclusively to Worlanyo Wallace he indicated that our taste for foreign coaches is disgusting and unfortunate.
The former player averred that what has happened has happened but he would blame the stacking of the coach for lack of decision making.
He opined that the sacked coach lacked independence and undue interference caused his abysmal performance.
Mohammed Gargo added that Ghanaian coaches when appointed must be allowed the free hand to operate.
"I don't know if he was been controlled or manipulated. I can not day of he was doing things on his own but I knew he was been influenced," he added.
He said if he had performed well, he would have been praised and so if he has not performed to expectations, he could also be blamed.
In his view, this is a bitter lesson our local coaches must learn from and should they get an opportunity to coach the national team.
The Ghana Football Association (GFA) has sacked of Black Stars coach Charles Kwabla Akonnor.
In a statement, the GFA said the 47-year-old and all his assistants have been relieved of their posts.
The decision was taken by the Executive Council of the Ghana Football Association.
According to the council, the contract of the coach has been terminated.
The appointment of Black Stars Coach Charles Akonnor and his two Assistants with immediate effect, a statement said.
"This follows the receipt of the Technical Report from the Head Coach of the Senior National Team and the report from the Black Stars Management Committee following Ghana's Group G World Cup qualifying matches against Ethiopia and South Africa.
The Executive Council after considering the two reports have decided to terminate its relationship with the Head Coach C. K Akonnor and the two Assistants.
The Executive Council has formed a three (3) Member Committee made up of Vice President Mark Addo, Upper East Regional Football Association Chairman, Alhaji Salifu Zida, and Dr. Randy Abbey to find a Head Coach and Assistant Coaches for the Black Stars within the next 72 hours," the statement added.
It further added "The Association wishes C.K Akonnor and his Assistants the very best in their future endeavours.
Ghana currently have three (3) points after the two opening matches.
The Black Stars will take on Zimbabwe in the next round of games in October 2021," the statement concluded.