Deputy coaches sometimes undermine head coaches in order to take their jobs – Sarpong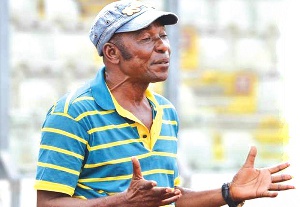 J.E Sarpong, Former coach of Asante Kotoko
Former coach of Asante Kotoko, Hearts of Oak and currently Akosombo Crystal Palace Coach, J.E Sarpong, has pinched on deputy coaches stating that they are mostly responsible for the sacking of head coaches.
According to him, the behaviour of most deputy coaches in Ghana is always to undermine the work of the head coaches, which usually results in the sacking of head coaches.
"Deputy coaches always undermine the main coaches in order to take over their job, but you can't overpass the person who appointed you," he said.
He was speaking on Rainbow Sports when he was asked if deputy coaches could also be blamed for the performance of head coaches.
He further asserted that he is not going to coach any Premier league Club since the "sheep that went to the field for food hasn't returned."