Former High C'ssioner to UK, Isaac Osei, appointed Board Chairman of GPHA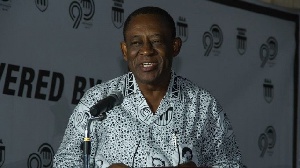 Isaac Osei is a former MD for TOR and one-time High Commissioner to the UK
President Nana Addo Dankwa Akufo-Addo has appointed a former High Commissioner to the United Kingdom (UK), Mr. Isaac Osei, as Board Chairman of the Ghana Ports and Harbours Authority (GPHA).
He is taking over from from Mr. Peter McManu, whose tenure lapsed this year.
He is expected to use his decades of experience to strengthen the operations of the ports authority to improve on international trade.
The former New Patriotic Party (NPP) Member of Parliament for the Subin Constituency in the Ashanti Region was recently inducted into the Corporate Ghana Hall of Fame alongside 18 other corporate achievers for his outstanding contributions and achievements to the Ghanaian economy.
As Managing Director of TOR, Mr. Osei supervised the first routine maintenance of both the crude distillery unit (CDU) and the residual fluid catalytic cracker (RFCC), thereby reducing losses and improving the efficiency of both plants.
The refinery was also able to attract BP and Vitol as partners to help improve its operations.