Ayisha Modi responds to public trolls after her failed promises to TT
Entertainment of Wednesday, 15 September 2021
Source: ghbase.com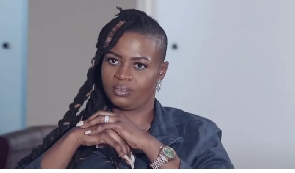 Ayisha Modi is a music investor and an artiste manager
Following the timely intervention of Vice President Dr Mahamudu Bawumia to assist veteran actor Psalm Adjeteyfio, Ayisha Modi has swiftly responded to some comparisons on social media.
It can be recalled that when Psalm Adjeteyfio's plight was brought to the fore initially, Ayisha first pledged to help in easing his financial burden.
"Daddy am coming, worry no more about rent for the rest of your life @kenzyofficialgh blood do something", she posted in the comment section of a popular blog that shared the actor's plight on social media.
But it appears the Vice President has 'beaten Ayisha to her game' after he offered a prompt response to TT.
Mr Bawumia, shortly after TT's plight surfaced on social media, offered him GHC50,000 to cover his rent issues and upkeep.
But reacting to this, some individuals blasted Ayisha Modi for making empty promises.
To them, Ayisha's promise to offer free accommodation to the veteran actor was long-lived.
It was in this light that Ayisha Modi replied saying;
"How can u ppl compare a poor citizen like me to my Vice president? anyways u guys are learning how to appreciate people while they live. Arrrrr Ayisha Modi! You are too powerful. Well done ppl of Ghana. she wrote on IG."