Owusu Bempah has become 'arrogant' & 'rowdy' because of Akufo-Addo – Akamba
General News of Wednesday, 15 September 2021
Source: peacefmonline.com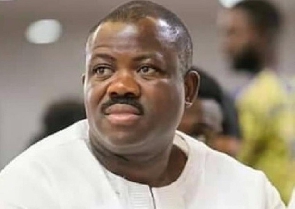 play videoJoshua Hamidu Akamba
The National Organiser of the largest opposition National Democratic Congress (NDC) says the presidency has 'pampered' the founder and leader of Glorious Word Power Ministry, Rev Isaac Owusu Bempah for far too long.
Joshua Hamidu Akamba, in an interview on NEAT FM's morning show 'Ghana Montie', said the man of God has become very "disrespectful, arrogant and rowdy" because of his affiliation with President Nana Addo Dankwa Akufo-Addo.
"He claims to be untouchable because he is with the President," he told sit-in host Mac Jerry Osei Agyeman.
Akamba was reacting to the arrest of Rev Isaac Owusu Bempah and three of his junior pastors.
The controversial man of God and his junior pastors are currently in the custody of the Ghana Police Service, following their arrest in the creation and circulation of multiple videos containing threats and the brandishing of a weapon, and the assault of some police personnel.
The police say they arrested the suspects "after critically analyzing the said videos and based on intelligence gathered".
Two other suspects are, however, said to be on the run and are being pursued.
Rev Owusu Bempah and his junior pastors were put before court on Monday, September 13, 2021.
He pleaded not guilty to charges including offensive conduct conducive to breach of peace, the threat of death, and assault of office public officers proffered against him, and has been asked by the court to be kept in police custody for a week.
Listen to the interview below:
[embedded content]