Titus Glover is ignorant about football, he must shut up – Takyi Arhin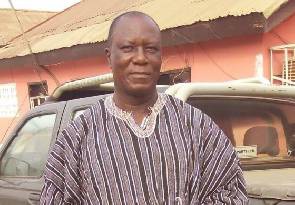 Takyi Arhin, General manager of Aduana Stars
General Manager of Aduana Stars, Takyi Arhin (Thunder), has called on the former Tema East Constituency MP, Daniel Nii Kwartei Titus Glover, to be silent on football issues.
According to Thunder, the former MP does not know anything about sports; hence he should stop daring football people.
He was speaking on Rainbow Sports when Isaac Worlanyo Wallace asked his opinion about the threats the former MP issued before the sacking of CK Akonnor.
"Glover needs to be educated on football. It was a partisan kind of statement to say to GFA that, I dare you to sack CK because if it happens, you've laid your hand on NPP", he said.
He added that if it had been the Sports Minister's statement, there would have been some credence laid to the issue.
He further stated that he couldn't even maintain his constituency; thus, he is not well informed and exposed his ignorance leading to him being a laughing stock.
Titus Glover had dared the President of the Ghana Football Association, Kurt Okraku, to attempt to sack Charles C.K Akonnor as the head coach of the Black Stars.
"Kurt, we are daring you! We are daring him. The future of the Black Stars is linked to the NPP. We want the Black Stars to progress. Those of you imposing players on him (CK Akonnor), those who are not allowing him time and space to do his work should stop immediately," he added.